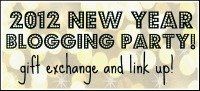 I am so glad I joined the Blog party gift exchange!
And if I hadn't joined up, I never would have met and been partnered up with the beautiful blogger of
I swear, whoever did the partnering did a GREAT job! Michelle at
Texas Tanners
not only has an awesome name - Michelle Tanner, like in Full House - but she also loves Jesus! She also happens to be an Alabama fan, so she has a lot in common with the hubs as well.
When Michelle asked some questions about to me to get some ideas for her side of the gift exchange, I told her I'd love for her to just pick whatever she likes! That way I could discover some new treasures. And boy did she hook me up!
even her daughter played a part ;)
Michelle really outdid herself! I couldn't believe how many of her favorite things she sent me! And I love them ALL!
I'm slightly obsessed with this necklace! Michelle has the same one, so now we're twinsies!
I've already started reading this and its all about taking this life God gave us - this gift - and enjoying every little piece of it.
More of Michelle's favorite/signature beauty products! Little did she know, I was totally thinking that I need to paint my nails (so I will stop biting them!) but didn't want to use a bold color because everyone would notice how short they are! PERFECT!
Don't judge my shorty nails! I'm working on it ;)


**update** I was asked the color and it is Made to Honor. Subtle and beautiful!
"Delight yourself in the Lord" -- SO THOUGHTFUL! I seriously need this reminder, everyday! (again, we're twins because she has this in her home as well!)
Wade and I had a
little bit of fun
taking pictures of me wearing my new owl necklace from Michelle.
Thank you Michelle! You are so sweet and I'm so glad we met and I'm even MORE glad that I know we will keep in touch from here on out! You have a beautiful soul and you made my WEEK when you told me how much you loved the gift I made you! Seriously.