Today I want to share with you all a ministry that is near and dear to my heart:
The Crash exists as a sort of church planting/mission focused group. The goal is to go to a most unchurched area, integrate into the community, and plant a church that is relevant to the culture and also Biblically sound.
They are currently in Eugene, Oregon where, back in January of 2011, my husband and I helped them move with a five day cross country drive. Check out that story
here
.
Founded by my brother-in-law, the Crash team includes many family members and friends of mine, so naturally I love to keep up with what they are up to. All which has been made very easy as of late, since three of it's members now have blogs!
Allow me to introduce you to my sister-in-law Audrey over at
Q&A
where she has most recently recounted their one year anniversary of the big move.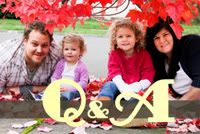 Breanna, over at A Day in the Life of a Crash Team Member who has just posted her very first blog post.
and my brother-in-law Q at
Q Crashing
who shares, transparently, the pressures of this ministry as well as the rewards.
One of the ways in which God has blessed me is by surrounding me with friends and family who take the Great Commission to heart, choosing to turn from the "American Dream" and follow God recklessly where ever He may lead. It takes a great deal of courage to place your future in His hands alone - but once you do, you wonder why you ever tried to hold on to it yourself.