First off -- lemme just say
Y'all are AWESOME!
Yes, I realize you probably already knew that, but I had to say it anyways!
After nearly
3 years
of blogging I've finally reached over
100 Followers
(through GFC - I haven't forgotten you facebookers that I know in real life).
[took me long enough, right?]
I kid.. I kid.. but really, until this past January I kept my little blog to myself and some friends and maybe Facebook. Now I'm getting out there, linking up and takin' names! And it has been such a fun month. I have met so many amazing women who love Jesus and have incredible blogs. Why did I wait so long??
The hubs promised a celebration of some sort, so we shall see what we do for that next week sometime.
And, also, I'm thinking a hand-made gift (by me) giveaway is a great way to say thanks and show you all how much I appreciate you! More details later.
Meanwhile,
I'm over at
The Life of the Wife
today, talking about what I
don't
know!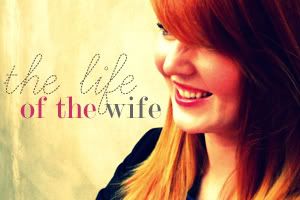 About how my life has gone in a completely different direction than I had planned out, and how
I'm so happy
for it! So, be sure to head over and read all about it. And while you're there, give
Jenna
some love, will ya?