Dear Husband,
Today, we have been married for 2 years and 363 days. As I look back on these nearly 3 years of marriage and think about how the outside influences have shaped and molded us, I find that it's not so easy to see. Maybe because it's us, and I see us every day. It's like when you don't see someone for a while and they say how different you look or how much you've grown, but you don't notice it yourself since you see it happening so slowly. It's so slow and minute that it's nearly unrecognizable. Maybe there are others out there, more people from the outside, who can see the effects better than we.
And although I can't always see them, I'm know they're there. You see, yesterday, as I sat in church and watched over 30 people make a public declaration of their new lives in Christ with Baptism, I realized that we are all effected by outside influences. Someone told them about Christ, which led to where they are today. And much longer before that, someone gave their life for them, allowing them a chance at a relationship with God. That someone was Jesus.
::Outside influences tend to change the inside, don't they?::
What I'm realizing is that together, we are the outside influence to so many. We are outside influences to each and every person we come into contact with. That's a huge responsibility. And you... you have probably been one of the biggest outside influences in my life. So much so, that I let you in. You've changed my life. You make me more like Jesus. And I love you.
Our three year anniversary is just two days away and it's kind of amazing how excited I am. Just the knowledge that I get a whole day of you to myself gives me butterflies and goosebumps and all of the other silly things that come with being in love. I'll save the "Happy Anniversary" for Wednesday, but you should know that I am so utterly thankful for you... every.single.day.
Love,
Your Girl
In addition to linking up with The RunaMuck for Marriage Letters Monday, I'm also guest posting over at Covered By Grace for her Monday Meet Up linky party! Be sure to go over there and check out what I shared with her readers and take the opportunity to meet some other amazing bloggers!
If you're visiting from Brooke's link-up, I'd love for you to let me know you came by so I can get to know you better! Please look around my blog -- a great place to start is right here!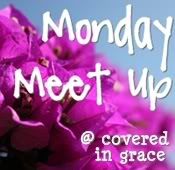 **also - don't forget about my Life. On a Mission. Link-up tomorrow! It's a great way for us to keep one another accountable and share what God is doing in our lives or what we are doing with our lives for Him! (feel free to grab the link up button on the lower left!)