like a husband who sacrifices down time to work and help provide for us and for our people in Mexico, and friends who remind me to write down the things I'm thankful for (ahem:
Amy
and
Erin
), and the random fall days we've been having (even if they are followed up with sweltering heat shortly after) and for a church family who will be coming to Mexico in a week and a half (EEK!!) and for another church family who have embraced us and invited me to help serve on the praise team, and for the little boys in my village who still think its fun to play with us instead of thinking they're too "cool" -- although I'm sure that time will come, and for Graciela who always offers to help me when I'm sweeping the kitchen, and for outings to the Chinese Buffet IN MEXICO (that was unexpected), for flannels and comfy pants (let's be real here), and most of all for Jesus. Because He's all of it.
What are you thankful for today?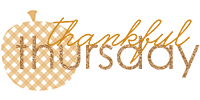 ps: I have a new email to make my brand more consistent.
To contact me (of if you get a comment reply from me you will see)
lifeonamissionblog@gmail.com